Google recently released its 2017 top searches report by Nigerians, and what stood out was the prominence of "How-to" queries. I was curious about what exactly people in each geopolitical zone wanted to learn. So I got to work. I compiled a list of Google trends data from the last 5 years and grouped them by regions.
Here's what I discovered: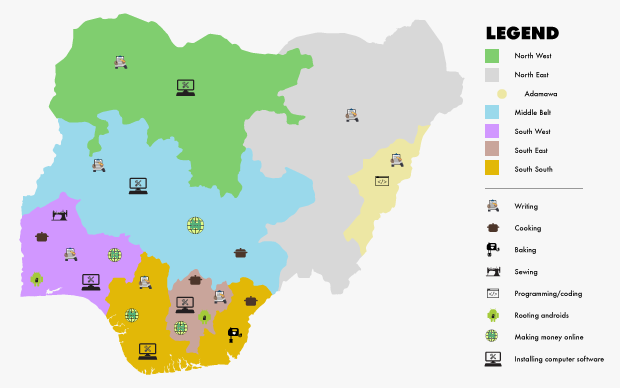 So in all the zones, "writing" and "installing computer software" were the most commonly searched how-to queries. Topics included "How to write cover letters/application letters", "How to install computer operating systems/software like Adobe Photoshop and CorelDraw". A breakdown of interest by regions showed that people in the South West were curious about sewing, and people in the South-South, about baking and its ingredients.
Notably, the report was unable to identify trends in most North Eastern states, except Adamawa, where people were particularly curious about programming. Queries are likely to be from the American University of Nigeria which is located in the state. 
Generally, moving down South, people in the East, West and South-South were quite curious about how to make certain dishes, from soups like egusi and ogbono to rice dishes like coconut and jollof rice. Another popular search query in the South was "Rooting of androids", the process of modifying an android phone so that a user gets administrator privileges.
Nigerians in the Middle belt, South East, West and South were interested in making money online compared to the upper northern regions. Also, first-tier city residents (Port Harcourt, Lagos and Abuja) searched for beauty related topics such as "How to contour", "How to tie gele", and "How to maintain their natural hair".
Overall emerging patterns
1. People want to know how to write application letters or cover letters, both needed for job applications.
2. People want step by step instructions on how to install software.
3. People want to know how to root their android phones.
4. People want to know how to cook mostly soups, rice dishes, bake cakes and make pancakes.
Why does this matter?
This presents an opportunity for brands to create instructional help content that fetch leads and ultimately conversions for their products or services, particularly those in the food, mobile technology and recruitment industries.
Samantha Sam-Inimgba
Data Analyst